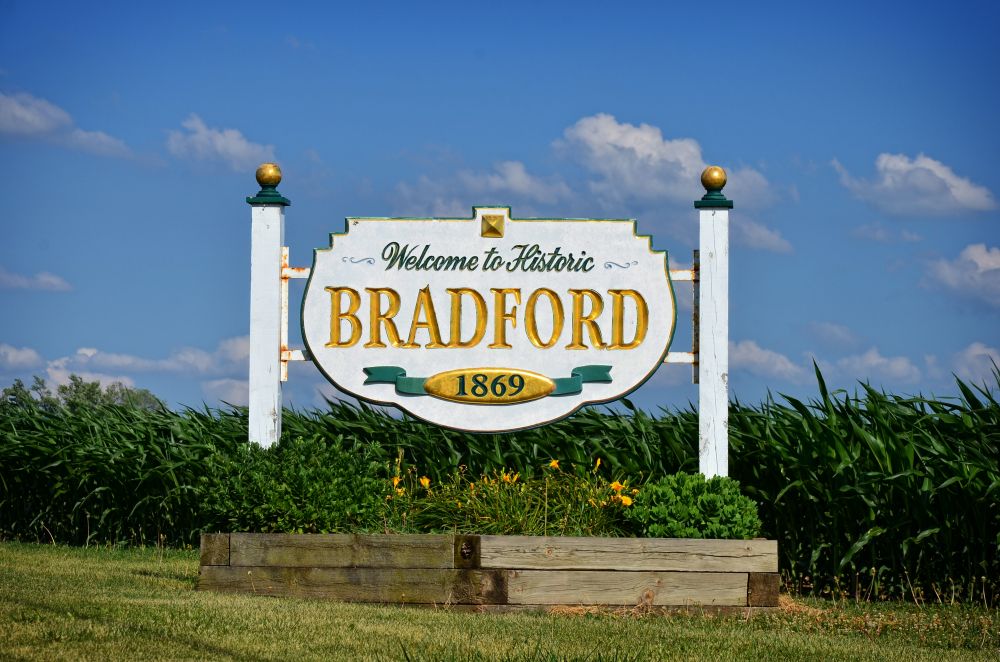 Bradford, Illinois 61421
Bradford is located in the northeastern corner of Osceola Township, which is part of Stark County on Illinois State Route 40. Bradford is approximately 35 miles north of Peoria and 65 miles east of the Quad Cities. According to the 2020 census Bradford has a population of 676.
Bradford offers many services to its residents. Bradford has a volunteer fire department and houses a branch of the Stark County Ambulance Service for emergency service to it's residents. Bradford also offers garbage pick up on Thursday mornings and recycling pick up on alternating weeks. Gas and electric service is provided by Ameren. Mediacom provides telephone, cable, and high speed internet service to the village. Bradford has a reverse osmosis water system and city sewer system.
Elsie Drawyer Hodges Park features a beautiful gazebo and shelter along with basketball courts and playground equipment. Bradford Park Board offers summer baseball programs for children 5 years old and up, including T Ball, softball, and baseball. Bradford has the only public swimming pool in Stark County which is open during the summer months for residents of all ages to enjoy. The Bradford Public Library is located adjacent to Elsie Hodges and has many activities for young and not so young alike.
Bradford Community Unit School District #1 serves the Village of Bradford and Bradford School District's rural area. The Bradford Grade School houses Pre-K to 5th grade and the Jr. High grades 6-8. The deactivation of the Bradford High School gives students the option of choosing to attend Bureau Valley High in Manlius or Stark County High School in Toulon. Illinois Central College in East Peoria is the community college that serves the Bradford School District.
Bradford offers a variety of shopping opportunities including: Antique Store, Beauty Shops, Bank, Exercise and Tanning Center, Massage Therapy, Gas Stations, Gift Store, Home Maintenance Services, Insurance Agencies, Restaurants and Bars.
Bradford is served by some very active community organizations including: BETAS (Sigma-Phi Alpha Chapter), Bradford Business Association, Bradford Lions Club, Bradford American Legion, Bradford American Legion Auxiliary, Boy Scouts of America, Girl Scouts, Knights of Columbus, in conjunction with Wyoming and Princeville, TOPS (Take Off Pounds Sensibly), and local church clubs. The Bradford Food Pantry is located at the Leet Memorial Methodist Church and is open Monday and Tuesday 9:00a.m. to noon.