Bradford 150 Club - Name Change
The Bradford community is grateful for this tireless group of volunteers who have graciously decided to continue on in support of Bradford.
No longer the Bradford 150 Club, this group of volunteers has renamed themselves the Bradford Betterment Committee.
Contact Becki Hoffert, Val Hickey, Deb Ryan, Angie Stange, Sarah Boehm or Jaqui Grant if would be interested in volunteering.
Bradford 150 Club Honored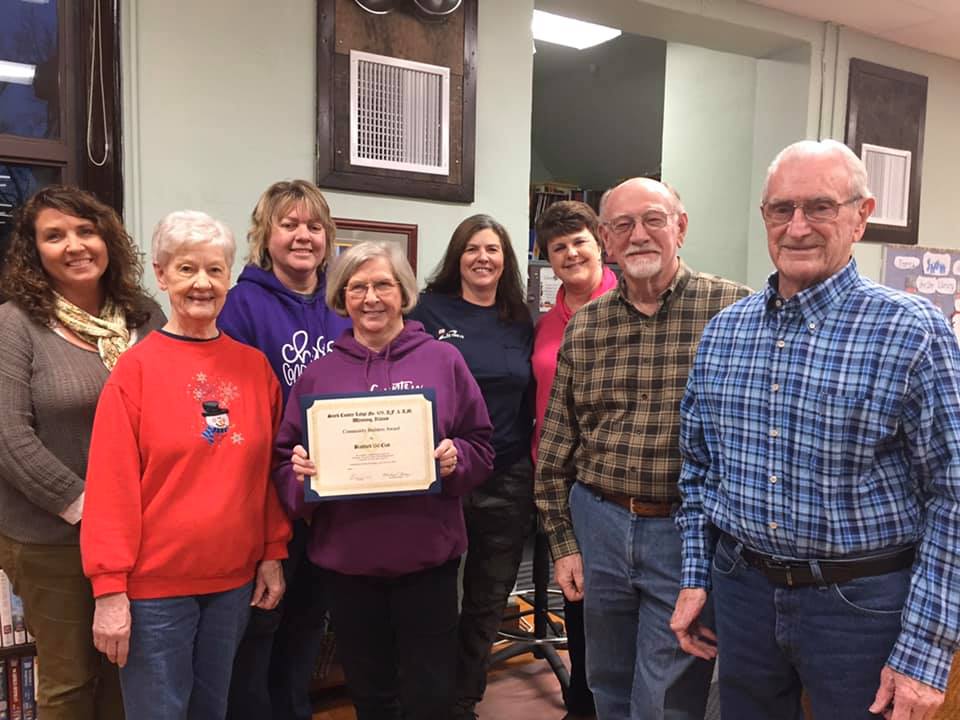 Picured: Left to Right
Bradford 150 Club Members-Becki Hoffert, Val Hickey, Deb Ryan, Angie Stange, Jacqui Grant, Sarah Boehm  and Masonic Lodge presenters- Tom McMahill and Jim Robison
On Wednesday, January 8, 2020, members of the Bradford 150 Club were honored by the Stark County Masonic Lodge with the Community Builders Award in recognition of outstanding service to the community for their efforts in the preparations and celebration of Bradford's Sesquicentennial this past year.
Planning for Bradford's 150th Birthday began over a year ago as several community members made a decision to celebrate this event. Flowers were donated planted under the trees on Main Street by various community members and organizations. Initial formal information on the Sesquicentennial was first available at the January 2019 Lion's Club Pancake breakfast. After two weather related postponements, a group of approximately 20 community members gathered in late February to discuss possible celebration plans. Meeting organizer, Jacqui Grant, presented various ideas that she had received from people prior to the meeting. The floor was then open for discussion and division into planning groups.
After several meetings specific plans and dates for celebrating Bradford were put in place. As soon as weather permitted, community members started cleaning up and beautifying the streets and parks of Bradford.  Banners and signs were ordered and set in place to announce upcoming events.
A community picnic in the park was held in June with the local Boy Scouts selling lunch, games and music were provided, leather stamping was available by the Illinois Valley Leather Guild, and then the retirement of American flags by the Bradford American Legion Post #445.
The July event was a Taste of Bradford in which the Highlands and the Bradford Snack Shack were available for people to purchase lunch items as they enjoyed the games and music which were once again provided.
In August Bradford's birthday was celebrated beginning with a community church service. This was followed by a tribute to Dorgan's and their café with a Maidrite lunch in the park. The 150 Club served Dorgan's Maidrite meals to those in attendance.   This was free to the community, but donations were accepted.  All three of these events began with a Saturday evening of popcorn and a movie in the park.
Labor Day weekend brought more celebrations with a dinner theater production of the Adventures of the Model T Girls on Friday evening and a matinee on Saturday.  Following the matinee there was a community photo on the football field and that evening the community was treated to fireworks in celebration of Bradford's 150th.
The 150 Club knows that they did not do all of this without the help and support of so many others in the community.  Plans are underway to continue working with the community to keep Bradford looking great as they continue to move forward with Bradford's 150th Birthday Year. One big goal is to continue the Labor Day Fireworks. Donations to the projects of the 150 club may be made at the Bradford Banking Center.
Here is a look at the events from the 2019 celebration...
Celebrating 150 Years
Please join us as Bradford celebrates 150 years of working together.
August 10-11
Saturday night: 8 p.m. Family Movie and Popcorn in the Park
Sunday:  Community Church Service in the Park - 11 a.m.
150th Birthday Bash!
Noon
The Bradford 150 Club will be serving Dorgan's Maidrites, hotdogs & chips for a donation - PLUS - Delicious birthday cookies! 12:30 - 5 p.m.
Music, games and fun activities are planned!
Labor Day Weekend!
Along with all of our annual Labor Day activities join us as we continue to celebrate!
Adventures of the Model T Girls
Dinner Theater Friday, August 30, 6 p.m. Shallowbrook Farm - SOLD OUT
Matinee, Saturday, August 31, 3 p.m. at the Jr. High
Tickets on sale now!
COMMUNITY PHOTO - 6 P.M. ON THE OLD FOOTBALL FIELD
In the Park on Saturday, August 31
Face Painting - Unique Twist Balloon Creations - Betas Paint a Board Craft -Tractors to explore - Visits from Marshall of Paw Patrol and Poppy of Trolls, Snack Shack Dunk Tank and more!
FIREWORKS AT THE BASEBALL FIELD!
Bring your lawn chair, show starts at dusk.
Don't forget your Lawn Chairs!
old fashioned games and races, bag toss, bocce ball, music in the gazebo, train ride for kids, Historic Cemetery Walk,  and so much more!
We are who we are because they were who they were.